2019 Draft Predictions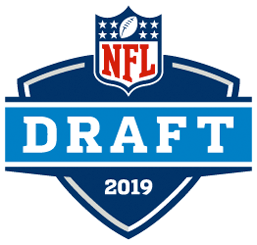 I don't know about yinz, but I've been licking my wounds for long enough and it's time to get back to football. As you all know, the new Ballers season begins officially with our annual draft predictions contest, and it's time to see if our defending champion Walsh can be unseated. With the draft coming up in less than two weeks we can drag our feet no longer.
I normally kick things off with my own set of predictions, but honestly I'm not ready yet (or to be more accurate, I'm even less ready than usual). So, I'll let you guys jump in the fray first this time around. Remember, earlier date of predictions is a tie breaker, so get your predictions in as soon as you can.
As a reminder, the rules are posted below.
You will be granted one point for each pick correctly identified by name, regardless of when they are picked. For example, if you predict that John Doe will be picked in round 1 but he is actually picked in round 2, you will still get one point.
You will be granted one point for each correct position/round combination. The specific player need not be correct, and in fact need not be specified at all. For example, if you said the first round pick would be safety John Doe (or just safety), and the actual first round pick is safety D'Long Johnson, this would be one point. Note that if the first round pick is John Doe you will have two points, one for the correct name, and one for the correct position/round combo. If you select a multi-position player (such as S/OLB) where you did not pick the correct name you will gain a half point if the actual selection matches one of the positions of your guessed player but only if you identify both positions in the pick. For example if your pick is a DE that you project as playing OLB, then you should identify the position as OLB. If the Steelers then select a different player who is a true OLB you will get full credit. If you identify DE/OLB you will get half credit in that instance.
You may specify up to three UDFA picks.
You will gain a bonus point if you correctly predict a trade up or down.
In the event of a tie, the participant who entered his submission earlier will be the winner based on the time/date of submission.
You may revise your submission up to midnight before draft day, however such edits will change your submission time/date which could hurt you in a tie break situation.
Suggested format for submission is as follows:
Round 1, D'Long Johnson, LS
Round 2, George Cantu, P
Round 3, Laquan Church, K
Round 5-1, Demetri Jones, OT
Round 5-2, Ethan Noonan, QB
Round 7-1, Dra'Michael'La'Trillium Jenkins, WR
Round 7-2, Nick Lavergne, RB
UDFA, Antonio Morgan, CB
UDFA, Ian March, TE
UDFA, Irving Briggs, OLB
For full points potential, all of the above information types are needed (round #, name, position).
Good luck!